Fancy some bubbles? You'll get a lot of them with this mask. The main difference between the Ninja Shark Air and our other full face snorkel masks is the breathing mechanism.
This mask uses a less complex technology, which is how we can offer it to you at such a great price! You'll be inhaling through the top tube and exhaling through two valves at the side-bottom. This design means you'll be blowing out lots of bubbles in the water as you breathe.
Some people love this, some people don't. Either way, you'll get used to it and the bubbles will follow you around on your adventures! Don't worry, they won't mess with your vision - they are redirected sideways.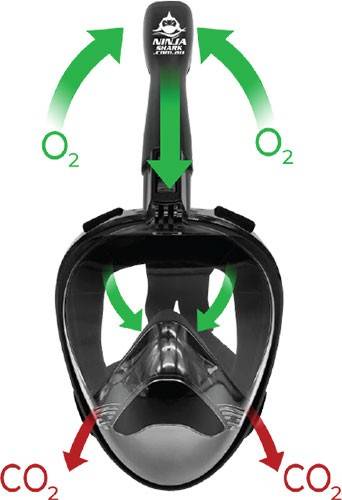 30% lighter than any other masks

The perfect snorkel mask for frequent travellers and backpackers! Our new mask is called the Ninja Shark Air for a reason, and that's because it's 30% lighter than our other masks.
If you find that our standard snorkel masks are too heavy to lug around on your spontaneous adventures, you'll love that this mask is lightweight and easy to carry.
With the same detachable tube, same attachments, and same materials, there's no compromise on quality or features - just less weight for you to carry around.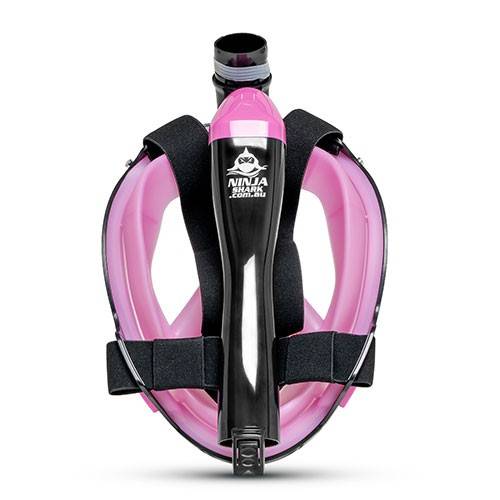 Anti-leaking for easy breathing

Don't let the price fool you - this is no leaky snorkel mask! The Ninja Shark Air features the same dry-top anti-leak system as our other full face masks, with two floating balls in the snorkel tube that prevent water from entering your mask.
The balls automatically seal the snorkel mask's air valve, making it impossible for water to get inside (unless it defies the laws of physics). No more choking, no salty water wrinkling your lips, and you can float safely knowing that the bubbles will be around you but not in your mouth.

Extra features = better experience

We wouldn't just send you off with a plain old snorkel mask, no way! The Ninja Shark Air comes with all of our usual Ninja Shark snorkel mask features, despite its more affordable price tag.
Capture marvellous sea life (and those bubbles) and share your snorkel adventures with the GoPro/action camera attachments. Keep water out of your ears with your handy Ninja earplugs (because we hate warm water trickling out of our ears hours later). Carry your fancy new snorkel mask in your handy mesh snorkel bag that lets water drain out after your adventure is over.
*Action Camera not included in the package.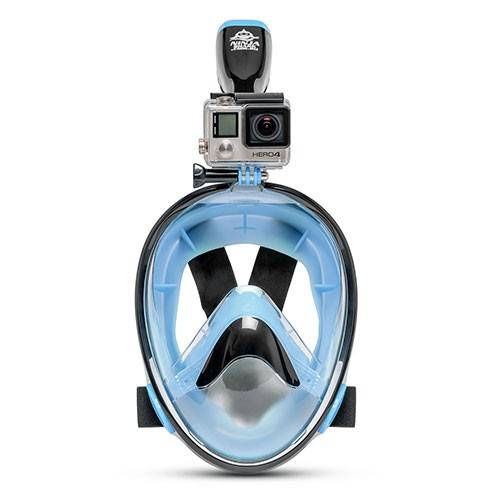 Anti-fog flat lens with panoramic view

The Air might feature different breathing technology, but we've managed to maintain the same flat lens as our other Ninja Shark masks. This means you get to enjoy the same high quality, crystal-clear views as our other full face snorkel masks, with less distortion and 180-degree panoramic views.
The Air mask also features the same anti-fog coating for a pristine experience, because the last thing we want you to do is have fogging disrupt your seamless snorkel adventure. It's basically HD vision for your underwater journey.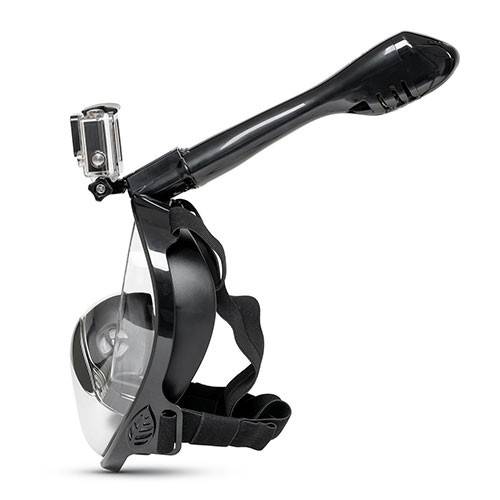 2x sizes and lifetime warranty

Not all faces are made equal, so the Ninja Shark Air is available in two sizes. If your face doesn't fit either of those sizes, we're sorry, but that's what our 90 day trial period is for. You get to purchase this mask risk-free, with a 100% money-back guarantee if things don't go as planned.
And just like the rest of the Ninja Shark range, we offer a Lifetime Warranty on the Air snorkel mask. That's because we back our technology 100%, and we know that what we're offering you is of the highest quality imaginable. Yes, even at that price!