Experience relief from foot pain and enjoy the life-changing comfort built into every pair of BlueBear Insoles.

Incredible! No more pain! ⭐️⭐️⭐️⭐️⭐️
I suffer from lower back pain and leg pain during and after a shift at work. I have tried multiple expensive shoes to fix the problem because I knew I was lacking support to the arch and heel in my foot.
These insoles provided me the most incredible support that I have ever witnessed. I didn't not have an ounce of pain or fatigue after my first shift of wearing them last night. I work 12 1/2 hour shifts. I will definitely buy again, to have one for every shoe pair I own.
I couldn't see myself without these insoles inside any of my dress, casual, or work shoes! A+++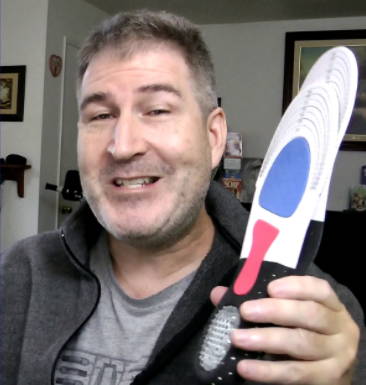 Relive All Your Problems Caused by The Feet

Don't Let Foot Pain, Discomfort or Fatigue Slow you Down

Introducing the #1 Rated Premium Pain Relief Insoles
Perfect For Both Men & Women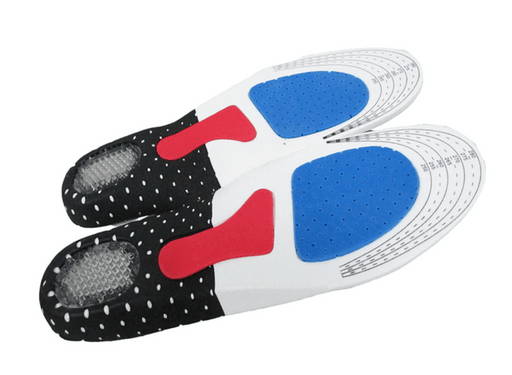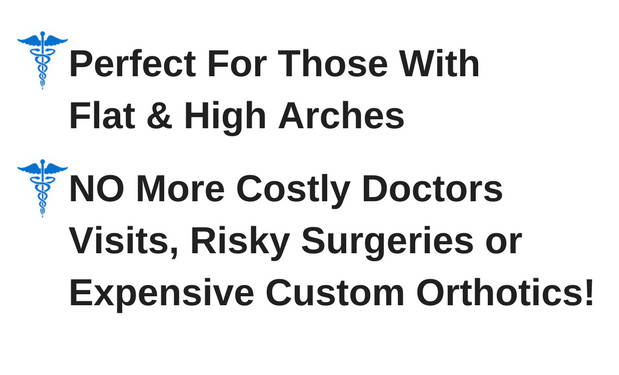 1. HELP EXISTING FOOT DISORDERS

✔️ Offer superior support for both Flat and High Arches
✔️ Help conditions like Plantar Fasciitis, knee pain, toe pain, Achilles pain and more
Flat arches are a common problem among people with foot problems. This is because of the stressful movement of the feet that can leave you vulnerable to painful foot conditions. Insoles are one of the most effective ways of promoting healthy foot movement. This is achieved because of the design of the insole itself. If you look closely, you'll notice a well-formed curve in the middle of your insole.
This feature plays a key role in supporting flat arches at an optimal level during movement. As your foot rests on the insole, the insole arch encourages the efficient functioning of the foot arch by preventing it from flattening on to the ground.
2. PREVENTS FOOT CONDITIONS FROM DEVELOPING

✔️ Absorb foot pressure, be it standing, walking or running.
✔️ Keep your feet in corrected posture
The condition of your feet depends largely on how well you treat them. If you take care of foot posture issues such as flat arches from an early stage, your feet will be protected from problems that are commonly linked to flat feet. These problems otherwise have the potential to become progressively worse, affecting your ability to move efficiently.
One of the biggest reasons to wear insoles is to keep the feet comfortable and prevent the development of foot disorders.
BlueBear Insoles can help in reducing your chances of developing common painful foot conditions such as plantar fasciitis and bunions. Such conditions are often associated with unhealthy foot movement patterns that are found in people with flat feet.
That means if you wear insoles you can lead an active and healthy lifestyle without having to worry about conditions such as Plantar Fasciitis.
✔️ Relieves and Eliminate Pain
- Due to osteoarthritis, rheumatoid arthritis, tendonitis, bursitis and everyday wear and tear.
✔️ Superior Shock Absorption
- Reduces and absorbs impact stopping transfer of pain to hip, knee and back
✔️ Podair™ Gel Technology
- Contains a unique silicone gel that relieves your heel and foot in critical areas that most shoe insoles overlook.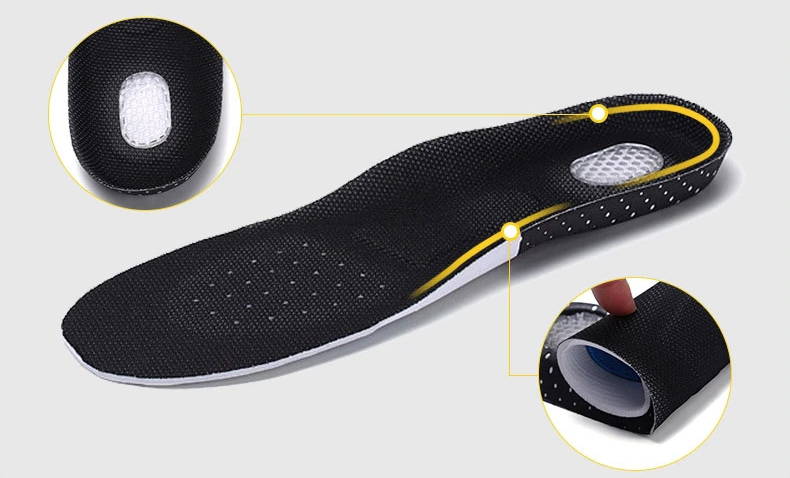 The therapeutic benefits of your insoles extend beyond your feet to include the rest of your body as well. When you walk with flat arches, your body responds by adapting to the unhealthy foot movements. Over a period of time, you'll begin to notice a pain even in your neck or back pain.
✔️ Healing Through Alignment
- When your feet are aligned, stress and strain are taken off of the knee joint.
- BlueBear Insoles help improve the alignment of your whole body by adding proper foundational support to it. With your foot movement patterns stabilized, your overall posture will show signs of improvement due to restored balance in the rest of the body.
✔️ Lower Your Neck and Back Pain
Your neck may appear to be sticking out forward while your shoulders may not seem leveled. As a result, your overall appearance may look skewed which will only get worse if your feet continue moving in a stressful manner.
5. GET HEALTHIER FEET AND COMFORT

Our comfort system all starts with the expertly engineered, patented heel cup which, due to years of research and iterations, is able to improve alignment of the kinetic chain, beginning with the ankle.
Through sourcing high quality materials, we have created industry leading shock absorption in the heel and forefoot pads. This addition helps to spread impact over time and reduce peak impact shock.
✔️ Walk & Run With Comfort Again
✔️ Reduces wear and tear on joints
✔️ Stand long hours more comfortably
✔️ Lightweight and Breathable Material
✔️ Wear them all day without odor or moisture.
Smelly feet can be caused by wearing wrong shoes. This discomfort can easily be solved by using insoles with natural components such as leather or cotton. These layers absorb perspiration and neutralize unpleasant odors to keep your feet fresh, dry and comfortable all day.
BlueBear Insoles are made with fiber absorbent mesh, that absorb water, offer good ventilation and anti-mildew effect
7. MAKE YOUR SHOES LAST LONGER

One of the biggest benefits of using insoles is financial!
Using insoles can reduce some of the wear and tear suffered by shoes, meaning they can support you for longer, meaning having to buy less shoes.
Not only that, but wearing old worn out shoes can lead to pain developing over time, such as back pain because of a problem with the posterior chain caused by imbalances lower down the legs.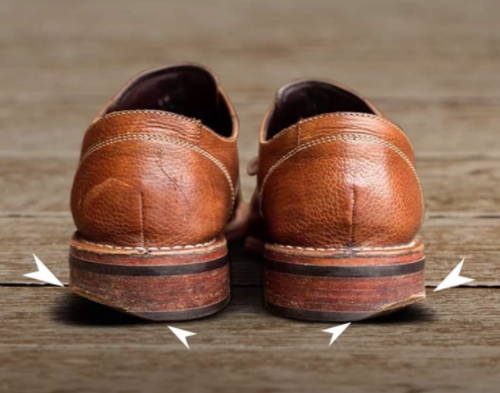 "Also great for high arches, heel spurs and flat feet"

"I have high arches and usually have trouble with heels over 2 inches because my weight ends up on the balls of my feet. When wearing wear these, that doesn't happen and shoes are comfortable all day! I can walk and run again without pain, I love it!"
- Amanda, Personal Trainer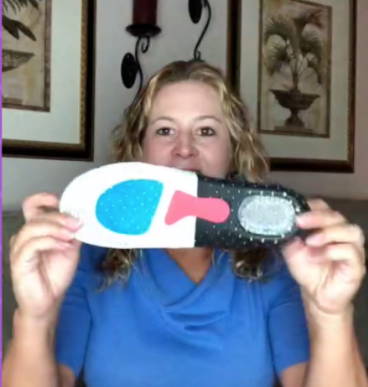 BlueBear Insoles
are Perfect for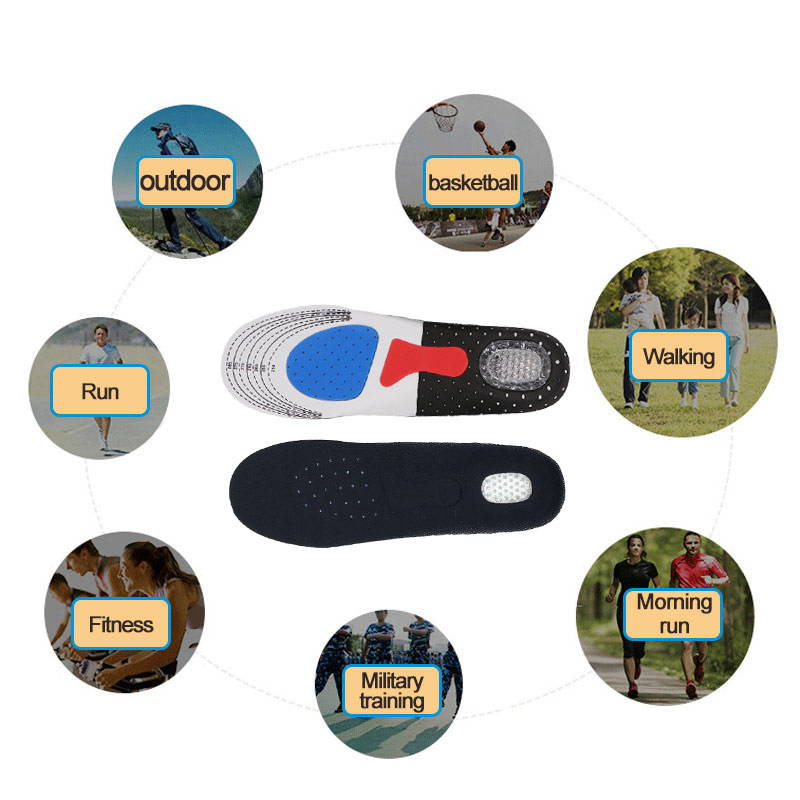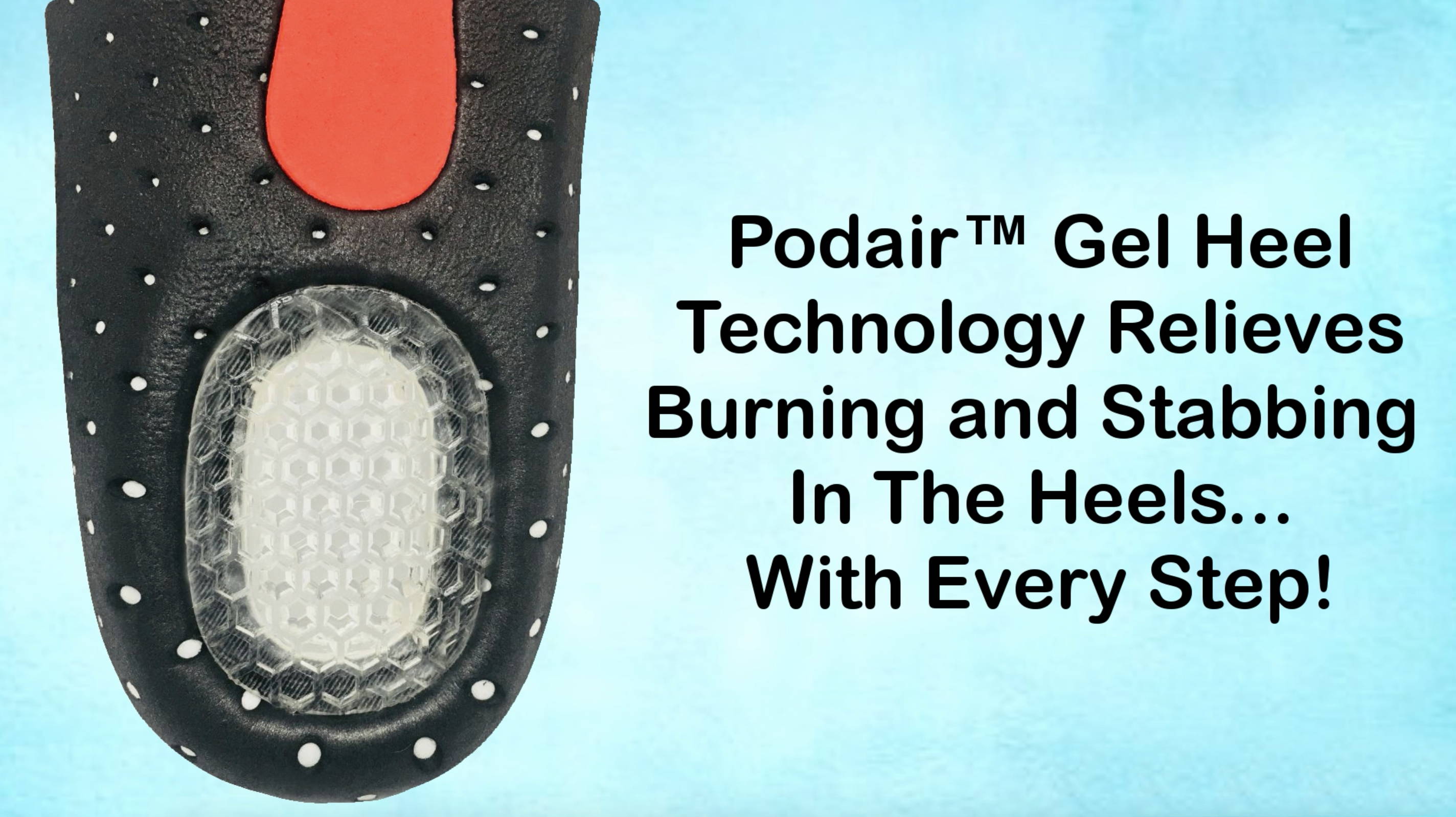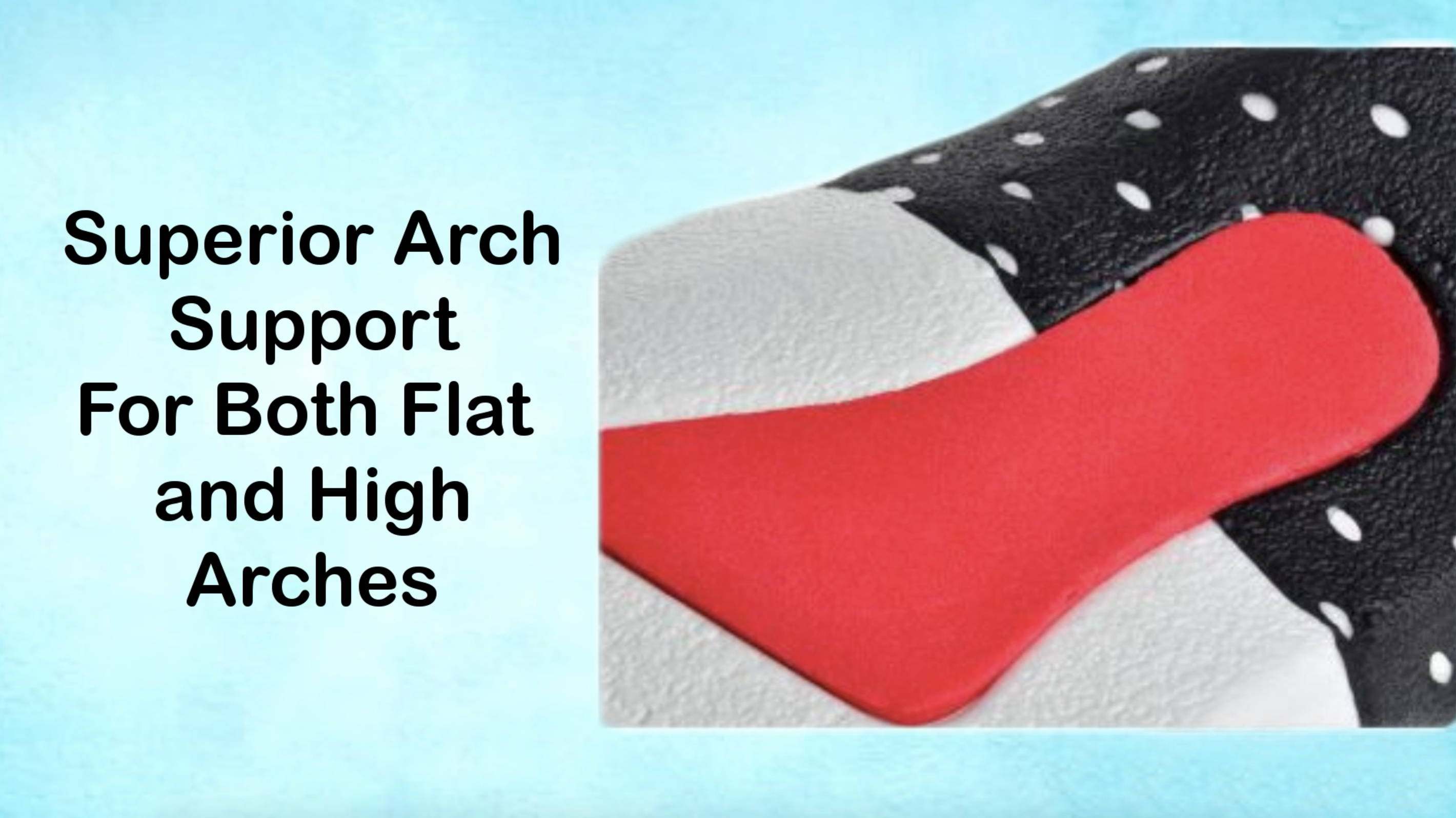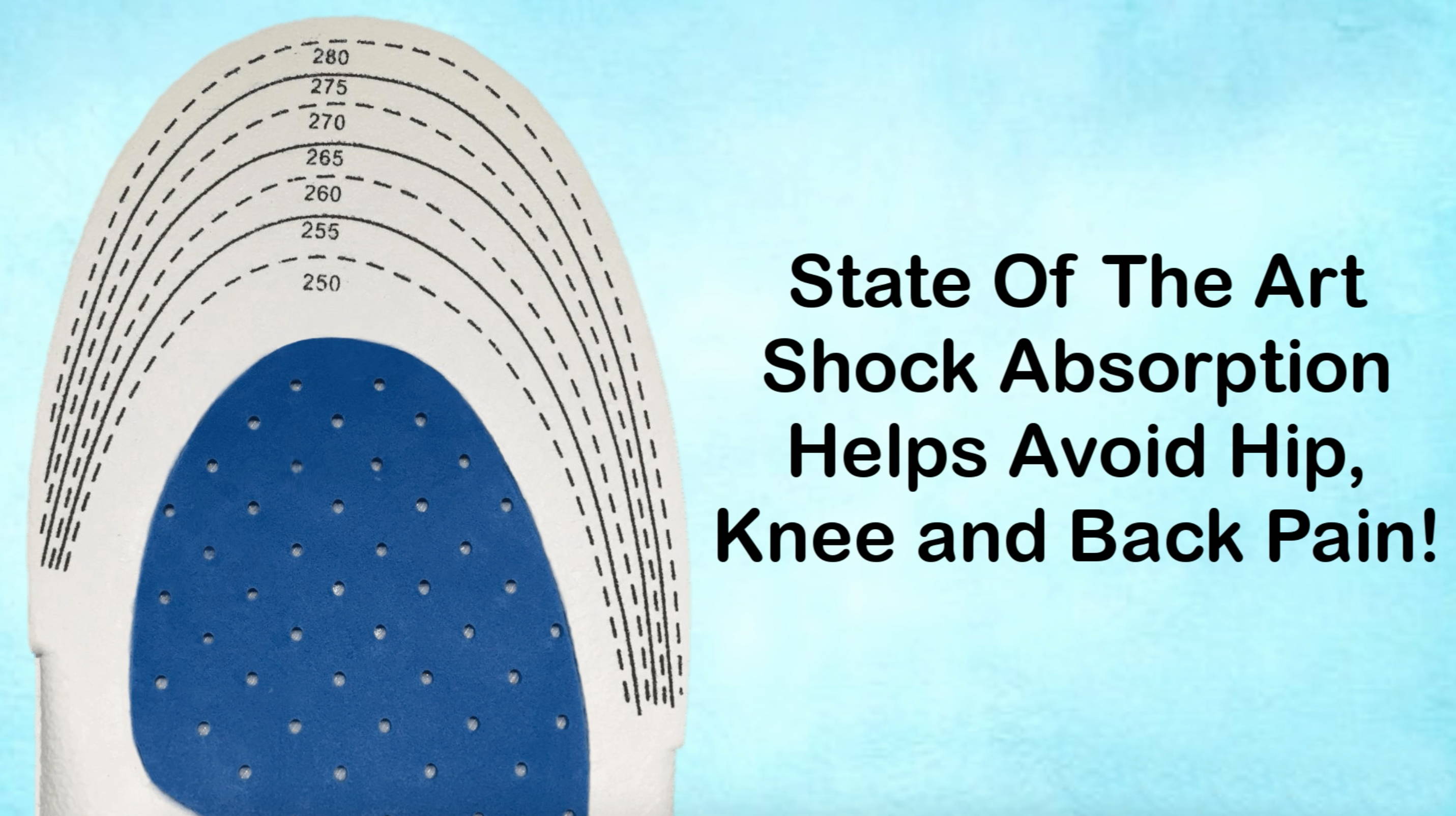 One size fits all and can be trimmed to fit all kinds of shoes, regardless of size or width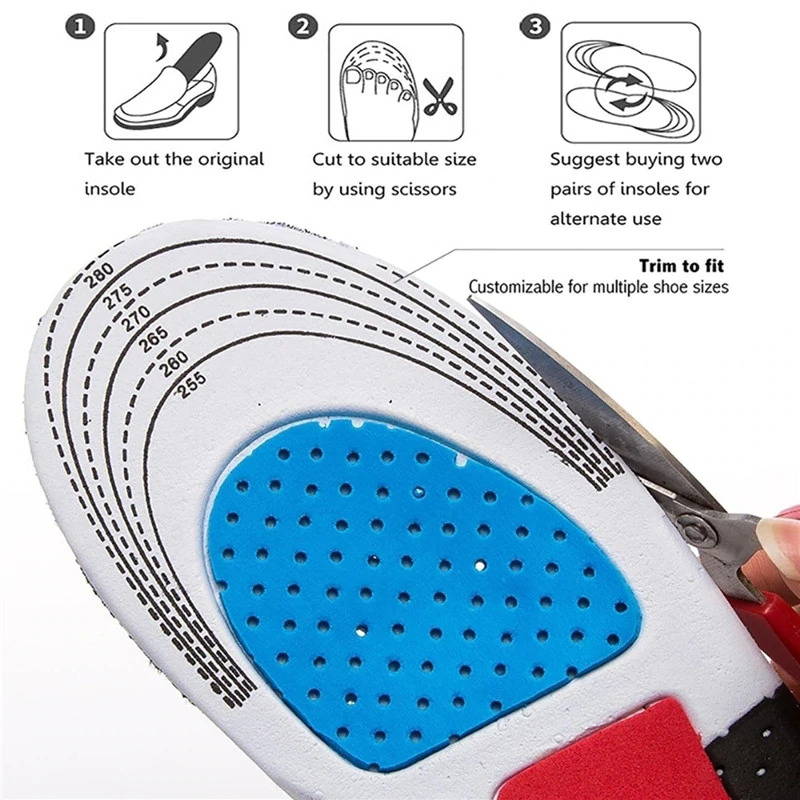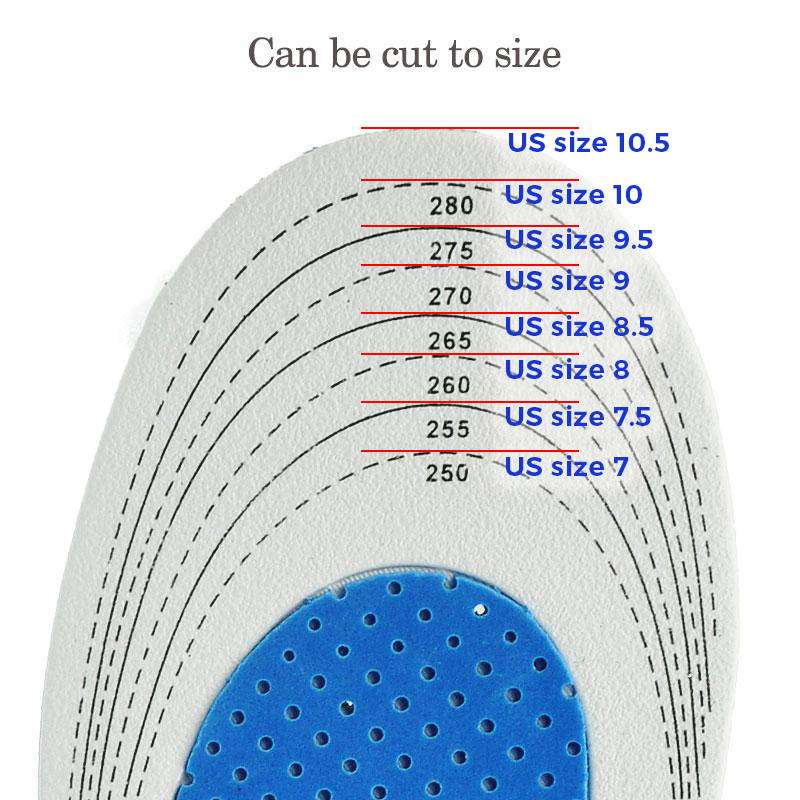 LIMITED TIME OFFER - ORDER NOW

IF YOU WANT TO RELIEVE FOOT PAIN OR PREVENT IT ALTOGETHER,
TRY BlueBear INSOLES TODAY!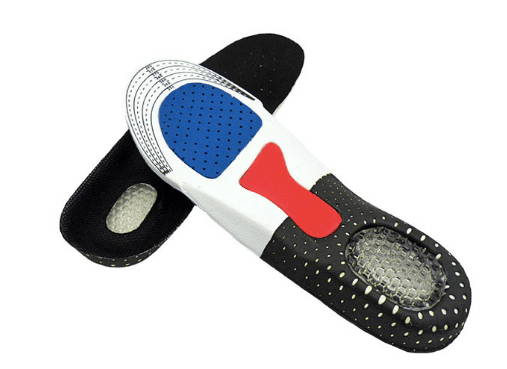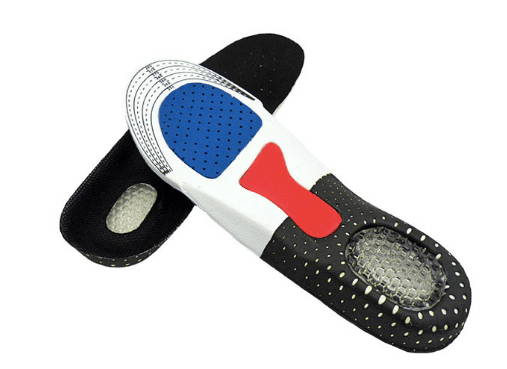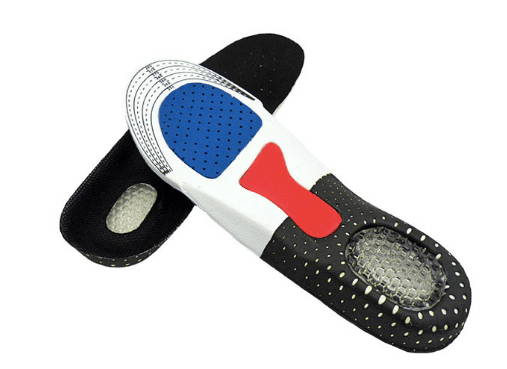 How do I trim my Insoles?
In the event that you would like to trim your insoles to get a better fit inside your shoes, they can be easily trimmed by following the dotted guidelines on the insole and using a sharp pair of scissors for accuracy.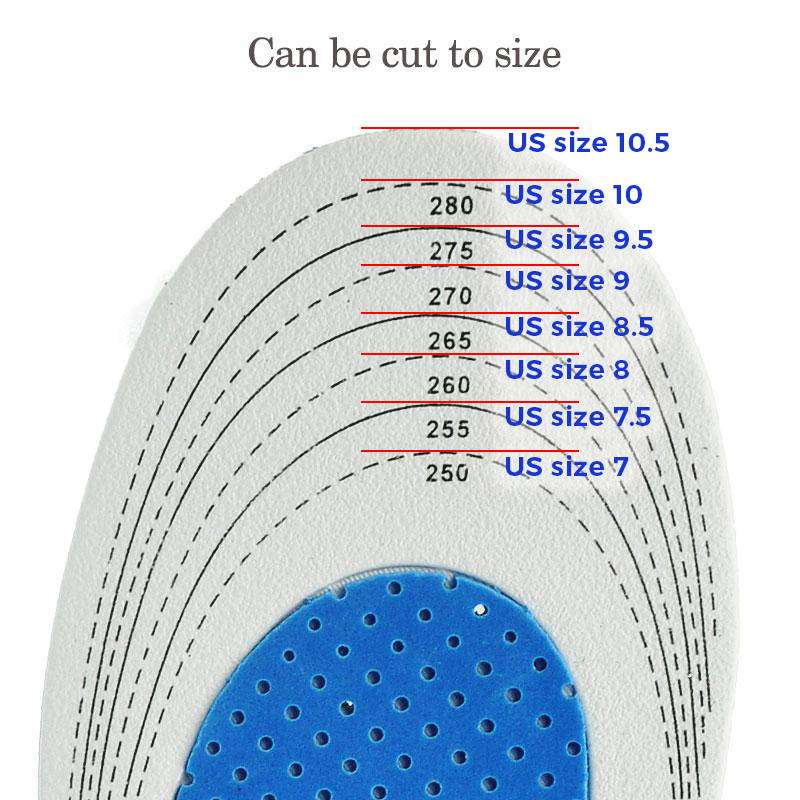 Can I transfer my insoles insoles into different shoes?
Insoles have a unique, patented Podair™ gel heel suction technology , which aid in stabilizing, relieving and supporting your foot. It adjusts upon use to your individual feet and shoe. Transferring them into multiple shoes can risk rendering the Podair™ heel suction technology ineffective as it contours and fits each shoe differently. For this reason, we offer the option to order multiple pairs for optimal results.
What benefits can I expect from my insoles?
Insoles have many benefits! Users report relief most notably in the heel and arch areas, which are helpful to those with plantar fasciitis, heel spurs, flat or high arches & morton's neuroma. They are also made for those who spend most of their day standing, constantly moving and/or on hard surfaces for more than 8 hours per day.
What benefits can I expect from my insoles?
Insoles have many benefits! Users report relief most notably in the heel and arch areas, which are helpful to those with plantar fasciitis, heel spurs, flat or high arches & morton's neuroma. They are also made for those who spend most of their day standing, constantly moving and/or on hard surfaces for more than 8 hours per day.